Show Posts
Messages |
Topics | Attachments
This section allows you to view all posts made by this member. Note that you can only see posts made in areas you currently have access to.
Topics - ab156
Pages: 1
1
« on: March 23, 2020, 05:01:56 PM »
Knockhill - it is about 60 seconds around here, should be good for racing and a bit of swearing...


2
« on: March 19, 2020, 10:29:36 PM »
I may choose to post some less embarrassing videos here occasionally....

3
« on: February 27, 2020, 09:49:17 PM »
Is there somewhere we can help out with the server costs?
4
« on: November 22, 2019, 04:11:09 PM »
Hi guys,
I am offloading a few bits and pieces, don't worry not going anywhere. I'll post via AusPost at cost, otherwise can pickup / deliver in Melb.
Fanatec McLaren GT3 rim, with the QR attached - $250
Pretty much
unused
, guaranteed to make no difference to your skill.
https://fanatec.com/au-en/steering-wheels/csl-elite-mclaren-gt3-csqr
https://fanatec.com/au-en/accessories/steering-wheel-accessories/clubsport-quick-release-adapter-black
Fanatec Clubsport quick release adapter - SOLD
Brand new, never used. Pretty much
useless
, unless you want to mount a custom rim I guess.
https://fanatec.com/au-en/accessories/steering-wheel-accessories/clubsport-quick-release-adapter-black
Rseat RS1 with attachments - $350 - SOLD
(Keyboard/Mouse tray kit, Tablet/Buttonbox Kit, Shifter/Joystick Upgrade Kit)
Comes with a few stickers to make it faster... It has been a very good setup, I haven't mounted most of the upgrade kits due to space limitations so you might need to head to Bunnings to buy some M5 / M6 bolts if I can't find all the stuff.
This one will be hard to ship so limited to someone who can pickup in Melbourne, I might have to gumtree this
. I am thinking around the $350 mark if you can come and collect.
https://www.rseat-europe.com/RSeat-RS1-Simracing-Cockpit/rseat-rs1-black-simracing-cockpit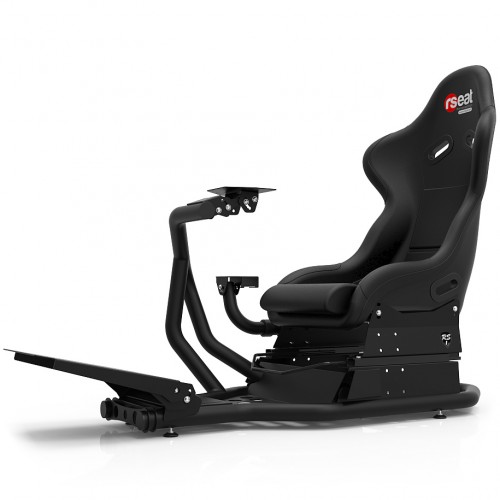 Fanatec ClubSport Wheel Base V2 - SOLD
Ridden hard and put away wet is the best way to describe. Comes equipped with the noisy Fanatec fan issue (fix is to give it a good slap every now and then just to confirm who is boss).
QR shaft shows the wear of a few years taking wheels on and off.
ClubSport Wheel Base V1- GONE

free
If you want it and are willing to take the risk it is yours, has been hiding in the attic for the last couple of years. Upgraded to V2, from memory the motors were starting to go. If you take the V2 you might be able to cannibalise for parts (fan, shaft??).
ClubSport Pedals V3 - SOLD
These are the standard ones, no upgrade parts. They have been good to me.
https://fanatec.com/au-en/pedals/clubsport-pedals-v3
If you are interested in any of this stuff let me know and we can sort out the details. Obviously the images above are for reference and are not of my actual stuff, if you want photos I can send.
I have bits of original packing but this is all being sold as USED so don't expect miracles in terms of packing materials - hope you won't be doing any "unboxing" videos
5
« on: July 09, 2019, 02:27:04 AM »
Away for 8 days in the UK. Let's start this with a very simple equation for you..

if ( you have not been to the Goodwood Festival Of Speed ) {
BOOK TICKETS, NOW
}
else {
SMILE KNOWINGLY
}


6
« on: June 16, 2019, 06:36:33 PM »
Does anyone have a link to a released version of Tailem Bend (international Configuration ideally). I have a track day over there in a few months and need to know which is left and which is right
Pages: 1